THE BLACK LIBERATION JOURNAL!


WHAT IS THE HANDS Off ASSATA CAMPAIGN?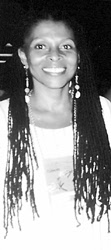 (photo from www.afrocubaweb.com/photopages/assatagallery.htm)


The Hands Off Assata Campaign is a coming together of organizations and
individuals who are outraged by the heightened attempts by the Congress of the
United States and the State of New Jersey to illegally force a return of
Assata Shakur from Cuba to the United States.
We believe that Assata Shakur is a bona fide political exile living in the
island nation of Cuba. She was persecuted for her political beliefs and
tortured while in prison. We support the international human rights and Geneva
conventions, which enabled her to seek and secure political asylum in Cuba,
and we support the right of the Cuban people to grant it to her. We are shocked by
the actions of New Jersey's Governor Christine Todd-Whitman, who has issued
and 100,000 bounty/reward on the head of Assata Shakur. Doing such a thing is
tantamount to a call to "soldiers of fortune" to kidnap and kill Ms. Shakur
and for them to engage in international espionage against the sovereign nation of
Cuba.
We are shocked by the activities of the United Slates House of
Representatives, which in September 1998 passed House Resolution 254, calling
for the Cuban Government to extradite Assata Shakur. Given that there is no
binding extradition treaty between Cuba and the United States, such a Request
is outside the context of international law, in addition, we call on the
Congress of the United States to hold public hearings on the past and current
impact of the FBI's Counter Intelligence Program known as COINTELPRO. Given
that Assata Shakur was not the only one politically persecuted for her
political beliefs, we demand that a full airing take place on that program.
And finally are calling on the United States end its hostility towards the tiny
nation of Cuba by normalizing relations with the Island and ending the US
economic blockade





What can you do?
1) Add your organization's name to our list of endorsers
2) Contact your Congressperson. Demand that he/she rescind House
Resolution #254 and ask them to support congressional hearnings on COINTELPRO.
3) Write to New Jersey Governor Chirstine Todd-Whitman and demand that she
withdraws the $100,000 bounty on Assata Shakur's head. Governor Christine
Todd-Whitman, State of New Jersey, CN-001, Trenton, NJ 08625.
4) Plan a showing of the Film Eyes on the Rainbow (1996). This film
portrays the life and current struggles of Assata Shakur.
5) Contact www.afrocubaweb.com; email: main@afrocubaweb.com for current
HOA-Campaign info.
6) Send a tax-deductible contribution. Hands Off Assata Campaign/Global
Exchange; P.O. Box 438731; Chicago, IL 60643.